Homepage
Solvay Teaching Awards
Discover the « Solvay Teaching Awards »
A reward for meaningful teaching projects!
Each year, the Solvay Brussels School of Economics and Management (SBS-EM) organises its « Teaching Awards », a manner to reward its pedagogical team of excellent professors and assistants, all of whom are committed to providing students with a quality education! Excellence, commitment, creativity and innovation: these are just some of the words that demonstrate their know-how.

The Teaching Awards represent a unique opportunity to reward, through a jury composed of representatives from diverse horizons including our students, the cream of the crop among our academic and scientific staff, and to highlight their initiatives!
Objectives of the Solvay Teaching Awards
The Teaching Awards target teaching projects that are part of a collective approach or linked to the learning objectives of the teaching profiles of the different programs offered by SBS-EM.

The SBS-EM Teaching Awards were created in order to :
encourage and highlight teaching initiatives that go in the direction of a collective approach and/or are linked to teaching profiles,
feed the teaching record of professors and teaching assistants with a formal recognition from the Faculty,
inspire academic and scientific staff and make them want to innovate and experiment.
Testimonials

Marjorie GASSNER
Vice-Dean of the Solvay Brussels School
Obtaining a Teaching Award from our School is particularly rewarding since it comes from an appreciation by the students of the investment of their teachers in trying to improve the communication of knowledge

Judith BEHRENS
Professor of Entrepreneurship and Innovation Management
The Solvay teaching award is a wonderful recognition from the students. I am grateful that I received it for the class Social Entrepreneurship. As teaching excellence is multi-faceted and involves a wide range of behaviours (such as using creative or innovative teaching techniques, organising subject matter in ways that interest and stimulate students or helps students grow in intellectual stature and skills), the teaching award is a wonderful incentive for professors to improve and rethink the teaching context and style every semester. This especially includes students' feedback.

Charles HOFFREUMON
Assistant
Reflecting on what we do and having to formalise our objectives, ways of working and their mutual coherence is something we often ask students to do but rarely apply to our own teaching activities. Participating to the Teaching Awards led me to do so and, consequently, to understand better how to improve on the exercise sessions and their delivery
Timeline
*only students can nominate a candidate.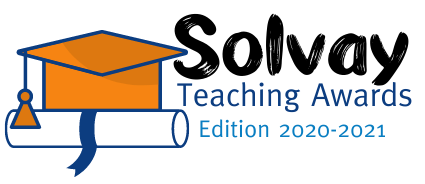 For any question or clarification, please consult the Vademecum: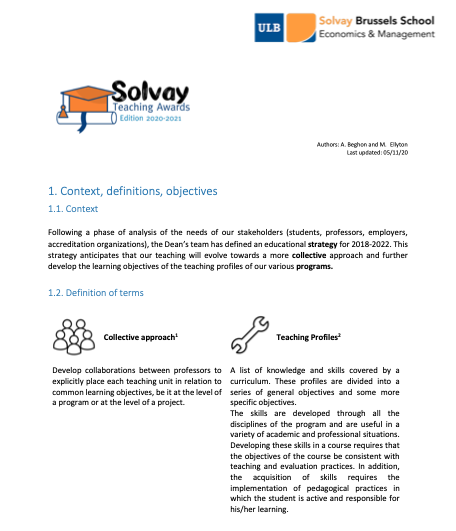 or contact the faculty pedagogical advisor, Mathilde Ellyton.